This is no time to engage in the luxury of cooling off or to take the tranquilizing drug of gradualism.
- Dr. Martin Luther King, Jr. (1963)
In this issue
Constructing Modern Knowledge 2010
Spend four cool summer days in New England making puppets roar, robots dance, animations delight, movies move, simulations stimulate, photos sing and leave with memories to last a lifetime!
Popular and provocative author, Alfie Kohn, MacArthur Genius school reformer, Deborah Meie and awardwinning children's author, illustrator and animator, Peter H. Reynolds. are returning as guest speakers to Constructing Modern Knowledge 2010, July 12-15, 2010 in Manchester, NH!

Dr. James Loewen rounds-out the team of distinguished guest speakers that promises to make CMK 2010 one of the premiere professional learning event of the year!
James Loewen's gripping retelling of American history as it should, and could, be taught, Lies My Teacher Told Me, has sold more than 800,000 copies and continues to inspire K-16 teachers to get students to challenge, rather than memorize, their textbooks. Loewen's most recent book, Teaching What Really Happened: How to Avoid the Tyranny of Textbooks and Get Students Excited About Doing History, helps teachers learn to teach history more authentically based on inquiry and access to primary sources. He will challenge interested participants to do history while at CMK 2010.
Constructing Modern Knowledge is a four-day immersive minds-on institute during which educators from around the world gather to collaborate and create wondrous technology-rich projects. CMK offers a playful rich environment in which you can develop your technology skills, become reacquainted with your creative spark and spend time with some of the most powerful thinkers of our time.
The stellar CMK faculty includes: Brian Silverman, the man who helped create countless software learning environments including LogoWriter, MicroWorlds, programmable LEGO and Scratch; Logo co-inventor Cynthia Solomon; Gary Stager; Generation YES President, Sylvia Martinez and John Stetson.
Constructing Modern Knowledge is not an ordinary conference where you sit quietly and listen. CMK is about action and high-quality interaction with experts in an intimate setting.
Peter Reynolds will host a reception at the storied FableVision Studios to kickoff the "Big Night Out in Boston." Monday's festive conference dinner will be held at an all-you-can-eat Brazilian Churrascaria.
Each participant receives a free suite of open-ended creativity software from members of The Constructivist Consortium for use at Constructing Modern Knowledge and beyond.
Constructing Modern Knowledge respects the budgets of schools and educators by keeping registration costs affordable and by offering team discounts. The institute is appropriate for all K-12 educators, administrators and teacher educators.
Go to www.constructingmodernknowledge.com to register and for more information. Enrollment is limited and early-bird discounts expire soon.
Visiting Scholar
This past August/September I enjoyed the great honor (honour as they would say here) of being a "Visiting Scholar" at the "Oxford-style" Trinity College of The University of Melbourne. I was provided with a large old flat (at the top of the building pictured), complete with library and art collection in the college and will experience many of the traditions including the wearing of an academic gown to "high table" and leading "tutes" with students. I was a judge for the prestigious Wigram Allen Dialectical Society Essay Contest and led a fireside chat on the topic of "The Education Revolution?" (Aussies know what the title means in the current political climate here)
I can't wait to return! I enjoyed college life now more than ever before.
The Big Time
At the 11th hour I was invited to be part of the NECC 2009 keynote panel moderated by "voice of God" and NPR host, Robert Siegal for an audience of approximately 4,500 people.

The crowd's laughter and applause was exhilarating!

The debate was great fun and a great honor. Many thanks to my good friends at NECC/ISTE for their generosity and professionalism.

You might enjoy:
An Aussie Anniversary
2010 marks an important anniversary for me. It represents twenty years of working in schools across Australia. I recently reflected on my the experience of leading professional development at the world's first two "laptop schools" Downunder in 1990, in Hard and Easy: Reflections on my ancient history in 1:1 computing. That early work was also documented in the book, Never Mind the Laptops...
In 1992, I delivered my first keynote address at the biennial Australian Computers in Education Conference in my beloved Melbourne. That's why it's so exciting to be a keynote speaker at this year's ACEC, April 6-9, 2010 in Melbourne, Australia! I will be presenting a brand new keynote designed specifically for the Australian audience entitled, "You Say You Want a Revolution?"
Sylvia Martinez and Alan November are two of the other keynote speakers.
I hope to see all of you there!
Plans are also shaping up for a Constructivist Celebration on April 6th. Watch the Constructivist Consortium web site for more information.
Ready for My Closeup!
Almost two years ago, I was asked to be in a film about creativity, math, science, engineering and imagination. That new documentary , imagine it!² The Power of Imagination. is about connecting imagination and creativity with science and engineering in education. The 52-minute film inspires people to imagine a better world, unleash their creativity and take action to solve global challenges.
I am in august company for my film debut. Other experts interviewed in imagine it!² The Power of Imagination, include:
Stanford University President, John Hennessy
Author, Sir Ken Robinson
Futurist and author, Ray Kurzweil
G. Wayne Clough, Secretary, Smithsonian Institution
Segway Inventor, Dean Kamen
Palm Computing co-founder, Jeff Hawkins
Peter Diamandis, CEO, The X Prize
Former MIT President and President of the National Academy of Engineering, Charles Vest
The Founders of The Blue Man Group
Watch the film, see longer outtakes of me, access related education materials or download the entire film for freevia my blog.
Must-See Stager TV
I'm always happy to share multimedia recordings of my presentations, but find it difficult to be my own film-crew while presenting at the same time. Podcasting always seems like a good idea as long as I don't have to do it.
Therefore, it's terrific when someone else captures my work. The NECC 2009 featured presentation was shot beautifully and my mouth worked well that morning.
Here are some recent performances you might enjoy!
Subscribe to my blog for news when I publish other video, including videos of guest speakers from Constructing Modern Knowledge.
Constructivist Celebrations are a Hit from Coast-to-Coast
More than 350 educators attended Constructivist Celebrations in 2009. In addition to the annual Constructivist Celebration preceding NECC, we held highly successful celebrations of computing, creativity and collaboration in partnership with NCCE and NYSCATE.

A Constructivist Celebration is planned for the MACUL Conference in Grand Rapids, MI on March 11, 2010. Register here. Keep an eye on the Constructivist Consortium web site for information other upcoming Constructivist Celebrations:
Melbourne, Australia - April 6th
Denver, Colorado - June 27th
Buy One, Give Another to Your Kid's Teacher!
Nobody does a better job of challenging conventional wisdom or killing education's most sacred cows than Alfie Kohn. In this $29 DVD you get two compelling one-hour lectures urging educators, administrators and parents to question the use of homework and grades.

There is no better way to heat up a teacher's lounge or PTA meeting than this terrific DVD.

Don't forget that Constructing Modern Knowledge attendees will enjoy the rare opportunity of interacting with Alfie Kohn in an intimate setting!
Where You Can Find Me
Dr. Stager's upcoming schedule includes the following speaking, teaching and consulting engagements:
January 14 - Orlando Florida Speaker A Vision of 1:1 Computing Worth Sustaining at Florida Educational Technology Conference
January 29 - Atlantic City, FL Keynote speaker Ten Things to Do with a Laptop: Learning and Powerful Ideas at NJ Techspo (superintendents), along with Alan November
January 30-31 - Philadelphia, NJ Speaker Stager Certified Educator Exective Program and Papert Matters: Thinking about Children, Computers & Powerful Ideas at Educon 2.2
February 15-16 - Portland, OR Featured Speaker (multiple sessions) at ITSC
February 25-26 - San Francisco, CA Visit me at the Constructivist Consortium booth at the National Association of Independent Schools Conference
March 1- Washington D.C. Speaker The Best Ideas in the World: Tickets to Modern Knowledge at the COSN Conference (with David Thornburg)
March 5 - Briarcliff Manor, NY Keynote Speaker Creativity 2.0: The Quest for Meaning, Beauty and Excellence at the LHRIC Tecnology Leadership Institute, along with Michael Horn
March 6 - San Antonio, TX Speaker Powerful Ideas and 1:1 Computing - A Vision Worth Sustaining at the ASCD Annual Conference
LATE MARCH - EARLY APRIL
AVAILABLE FOR PD, CONSULTING AND SPEAKING IN AUSTRALIA/NEW ZEALAND/PACIFIC-RIM. Contact Gary to schedule services.
March 26 - Doha, Qatar Professional development session, EdTech and Beyond at Qatar Academy
March 27 - Doha, Qatar Keynote speaker, The Best Educational Ideas in the World: Tickets to Modern Knowledge, The 3rd Annual ICT in Education Conference
April 6-9 - Melbourne, Australia Keynote Speaker & Breakfast Speaker at the Australian Conference on Computers in Education, along with Sylvia Martinez and Alan November
April 12 - Chicago, IL Speaker at the National School Boards Association Conference
April 22 - Philadelphia, PA Keynote Speaker, Ten Things to Do with a 'Laptop - Learning and Powerful Ideas, at Villanova Technology Expo 2010
June 10 - Palo Alto, CA Full-day professional development session at Castilleja School
June 27 - Denver, CO 4th Annual Constructivist Celebration @ NECC
June 28-30 - Denver, CO Featured Speaker Creativity 2.0: The Quest for Meaning, Beauty and Excellence at ISTE 2010
July 11-15 - Manchester, NH Organizer of Constructing Modern Knowledge 2010 - Register today!
August 16-20 - Paris, France Presenter at Constructionism 2010 Conference
LATE AUGUST - EARLY SEPTEMBER
AVAILABLE FOR PD, CONSULTING AND SPEAKING IN AUSTRALIA/NEW ZEALAND/PACIFIC-RIM. Contact Gary to schedule services.


September 6 - Adelaide, Australia Keynote Speaker at International Middle Years of Schooling Conference
September 7&8 - Adelaide, Australia Workshops and consulting with South Australia Department of Education and Children's Services.
October 18 - Hartford, CT Keynote Speaker at Connecticut Educators Computer Association Annual Conference
Provocative Anthology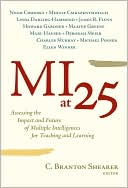 Hard to believe it, but Howard Gardner's Theory of Multiple Intelligences is 25 years-old. MI at 25: Assessing the impact and Future of Multiple Intelligences for Teaching and Learning is a collection of really thoughtful essays on the theory, its controversy and implementation. The essays by Howard Gardner and CMK 2010 Guest Speaker Deborah Meier are particularly notable. Even the contributions of people I think are nutjobs are well-written and reasonably well-reasoned. This book would be excellent for faculty discussions and education courses.
My Educon Sessions
For the 3rd straight years I'll be "leading conversations" at Educon 2.2 in Philadelphia, January 29-31. One session is a bit more whimsical than the other. See if you can determine which one.

Stager Certified Educators Executive Program
Play your cards right and you can leave this intensive, immersive, engaging and transformative session a Stager Certified Educator, complete with I.D. card, certificate of awesomeness (suitable for framing) and web badge for use on your blog or web site. Some educators don't achieve this much over a lifetime, but you may in less than 90 minutes! You will also gain a greater sense of the issues, ideas and expertise a 21st Century educator needs in order to create more productive contexts for learning. Resources for post-certification learning will be shared.

Papert Matters: Thinking about Children, Computers & Powerful Ideas
Seymour Papert, often referred to as the "father of educational technology," is arguably one of the most important thinkers of the past half-century. However, too few educators are aware of his ideas and contributions to the field. Papert's work is too often dismissed for having the audacity to ask educators to do better. Papert's creation, Logo, was the catalyst for a vibrant community of educators committed to giving voice to powerful ideas in their classrooms. Yet his influence has been much greater. Through an exposition of Papert's lesser-known writing and speeches, this session demonstrates Papert's tangible impact on the creation of classroom robotics, laptops, HyperCard, Squeak, Scratch, 1:1 computing and creation of the MIT Media Lab.
.
I will also discuss Papert's enormous influence on the fields of artificial intelligence, computer science, mathematics, educational computing, epistemology, learning and the politics of school reform. His prescience regarding the dominance of the information metaphor predicted the fallacies promoted by today's Web 2.0 community. This session explores just a few of Papert's most powerful ideas about children, computers and learning through his own words and rarely seen video. The presenter worked closely with Dr. Papert for years. Educators new to Papert's theories will be challenged to think deeper about learning. Others may be inspired to reinvigorate their practice and challenge the status quo.

For those of you who can't make it to Philly, most Educon 2.2 sessions are streamed via the Web with synchronous chat. Check the web site Saturday and Sunday morning.

I eagerly await video from my Educon 2.2 sessions to appear online. Stay tuned!
Two Giants have Passed
Recently, two giants of progressive education died within days of each other. Ted Sizer and Gerald Bracey's passing creates a courage and leadership vacuum that we will all have to work overtime to fill.

Gerald Bracey's most recent book, Education, is the quintessential analysis of these crazy days in public education.

The Final Bracey Report on the Condition of Public Education was published shortly after Dr. Bracey's death and is a must-read.
About the Critical Friend
The Critical Friend is an online newsletter for 21st Century educators published free-of-charge by Gary Stager.

It offers unique perspectives on important educational issues, debunks hype and confronts special interests all with a sense of humor. This newsletter analyzes trends and challenges the status quo.

Thoughtful educators, parents and decision-makers may be inspired to rethink their educational beliefs and practices. The Critical Friend will blow the whistle on superficial education journalism and attempts to put the latest "crisis du jour" into perspective.

Pass this newsletter along to friends and unsubscribe if you wish not to be bothered in the future.
The Adventures Continue!
2009 was quite an exciting and productive year. 2010 is already shaping up to be something special with an around-the-world speaking trip scheduled for March/April.
Although I completed my doctorate at the University of Melbourne a few years ago, I could never schedule an opportunity to attend a formal ceremony and get my fancy hat. Apparently, I was a graduand since I had yet to participate in a conferral of degrees and receive my testamur. I remedied this situation last August during my tenure as a Visiting Scholar at Trinity College at the University of Melbourne. Living on campus was great fun and a tremendous honor. I thoroughly enjoyed eating at "high table," leading "tutes" and judging the dialectical society speech competition. The students and faculty were fantastic.
There was a great deal of bowing and doffing of my bonnet during the graduation ceremony.
During 2009 I spoke at conferences across the United States and Canada, plus made another trip to Doha, Qatar, keynoted the uLearn Conference in Wellington, New Zealand, the eLearning Innovation Expo in Brisbane, Australia and led a Masterclass broadcast across South Australia. It was great to consult with public schools, private schools and policy-makers at the national and state levels.
I presided over three successful Constructivist Celebrations and Constructing Modern Knowledge '09 where generations of creative educators colllaborated, created and interacted with some of the leading education thinkers in the world. The great scientist, Dr. Marvin Minsky joined us for a "once-in-a-lifetime" reception at FableVision Studios.
It will be hard to achieve, but CMK 2010 promises to be even better. I hope you can join us July 12-15th! Please let me know if you need brochures or would like a discount for sending a team of three or more educators!
In late June I enjoyed the thrill of a lifetime when I was invited to be part of the Keynote Debate at the last ever NECC conference. Just chatting in the green room with "voice of God," Robert Siegel of National Public Radio was a real kick. The reaction to my comments was overwhelming.
In July, I also spent a week teaching middle school kids in Brooklyn, NY computer programming and robotics.
In August I convened a team of gifted teachers with more than a decade of experience teaching in schools with a 1:1 computer ratio, to lead a week of professional development for an independent school in Los Angeles.
In October I experienced the joy of working once again in the Methodist Ladies' College in Kew, Australia. This day was very special because I got to work with the world's finest (and first) laptop-using educator, Steve Costa, in the school where I led 1:1 professional development in 1990. I had not been at MLC in years and I was thrilled to work with a new generation of teachers and students.
Later in that month, I realized a decade-long dream of visiting Reggio Emilia, Italy where I enrolled in a week-long course. Seeing "Reggio" in action with my own eyes confirmed that this community has the richest, most sustained, subtle and beautiful approach to education in the world. In addition to staying in a 700 year-old hotel, I got to explore Bologna and Rome for the first time. The magnificence of Italian history, food, culture and beauty is matched by the approach to the education of young children found in Reggio Emilia. If you're not hip to the "Reggio Approach" check out these books. In December I visited a young New York City heavily influenced by "Reggio." The delightful Blue School was created by the creators of Blue Man Group.
While in Reggio Emilia we visited a farm where five guys work two shifts 360 days per year to make Reggiano Parmagiano cheese. It was like visiting Wonkaland for a person with my affection for cheese.
I was the opening keynote speaker for the Irving 1:1 Symposium in November and also worked at the legendary Lamplighter School in Dallas.
It was a great privilege to meet American civil rights hero, Dr. Joseph Lowery, when he visited Pepperdine University.
I continue teaching at Pepperdine University as a Visiting Professor. In the past four semesters I've taught in five different programs: MA in Learning Technology; EdD in Learning Technology; EdD in Organizational Leadership; Teacher Education - secondary and elementary (MA); and EdD in Educational Leadership. The work has been rewarding.
I will be back in Australia in April to keynote their national edtech conference and in late summer (August/September) to keynote a conference on middle years education. I also find myself speaking to more audences comprised of school board members, superintendents and principals. That's exciting!
My kids are terrific. In 2009, I traveled 150,000 miles, ate in great restaurants, saw world-class concerts, visited museums, attended lectures, heard fantastic musicians in numerous jazz clubs, spent time with great friends, spent time in NYC and even attended two days of master classes at Julliard with old friend Branford Marsalis and hosted by my pal Carl Allen who directs the Julliard Jazz Program. By some miracle, my mighty New York Jets are in the NLF playoffs!! To quote Pee-wee Herman, "I'm the luckiest boy in Puppetland." I hope this "luck" continues in 2010.
I hope you enjoy this newsletter! Please let me know if I may ever be of service.